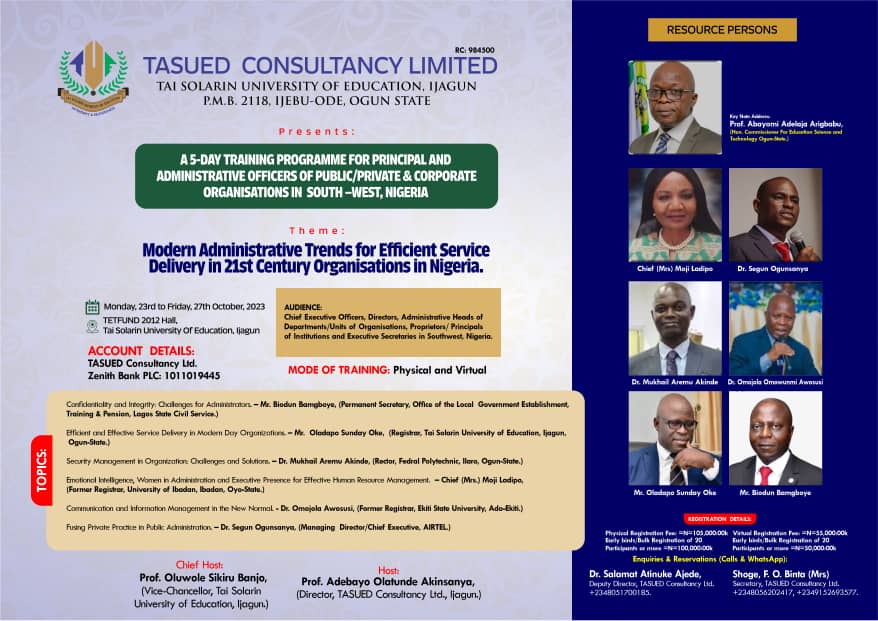 TASUED Consultancy Limited's commitment to advancing knowledge in various domains has been brought forth as it organises a 5-Day Training Programme which has been meticulously crafted for Principal and Administrative Officers of both Public and Private Institutions, as well as Corporate Organizations in Southwestern Nigeria.
Prof. Adebayo Akinsanya, Director, TASUED Consultancy, disclosed that the theme for this training program is , "Modern Administrative Trends for Efficient Service Delivery in 21st Century Organizations in Nigeria."
The program, scheduled to run from Monday, October 23rd to Friday, October 27th, 2023 would take place at the TETfund 2012 Hall located within the Ijagun Main Campus.
Honorable Commissioner Education, Science, and Technology, Ogun State, Prof. Abayomi Arigbabu, is expected to deliver the keynote address.
Distinguished guest speakers include TASUED Registrar, Mr. Dapo Oke, Chief Executive Officer of